Decided to try making my own food last night, messy business
wife not pleased but I seem to have been successful.
Ingredients were
Meat: 100g trimmed beef heart, 100g tilapia fillet, 100g peeled prawn,
Veg: 200g trimmed zucchini no skin or seeds, 150g spinach blanched for 30 sec, 200g cos/romaine lettuce, 425g can of peas drained, added 2 heaped teaspoons of garlic.
Used V8 juice original for liquid to aid in blending the solids used about 0.8 litres.
Blended all the ingredients then made my gelling compound by preparing 4 cups of water and 4 good teaspoons of Agar-Agar similar to gelatine but made from seaweed brought to boil and simmered for 5 minutes then added my blended mix (yummy!) the beat it all together using electric beaters while adding 2 heaps tablespoons of spirulina powder.
Poured into trays and it set in about an hour. Chopped up and spread out on trays and froze then put into snap-lock bags.
Finished product.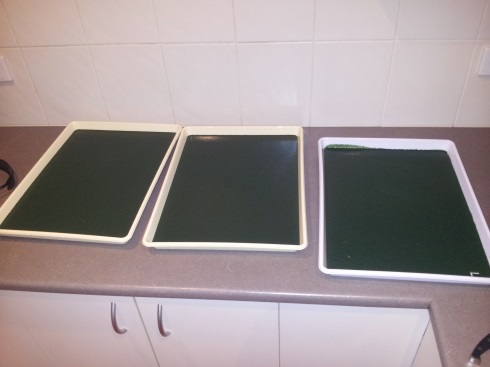 Bristlenose Chowing down and defending his food. My Africans seem to be fond of it to. Only feeding it to a couple of my bristlenoses at the moment proberly give it a week to make sure they don't croak before I feed it to the swarms.